Pea soup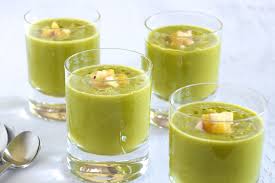 This Pea power house tastes amazing,  I may be slightly biased as I made it, but if my children ate it,  it must be good.
See what you think.
Ingredients
1 Tbsp Coconut Oil
1 onion chopped
3 garlic cloves chopped
2 celery stalks chopped (organic)
500 g Frozen Peas
500 ml of organic vegetable Stock
3 Tbsp Goats Yoghurt/coconut cream
Small handful Fresh mint or 4 Tbsp dried mint
Few thyme leaves (Optional)
1 tsp ginger powder or chopped fresh (Optional but does give a nice kick)
Method
Melt the coconut oil and add in the celery and onion and garlic and simmer until soft (10 minutes about)
Add the peas and stock and simmer again until soft (3-6 minutes)
When the Soup is slightly cooled puree it and add in the goats yoghurt/cream and the mint and thyme and puree again.
This soup is delicious hot or cold.
The benefits of this pea soup
Dietary fibre.
Dietary fibre adds bulk to your food without contributing to the calorie content of your meal, helping to keep you full throughout the day.
Potassium
Vitamin K
Green peas are a very good source of vitamin K, manganese, vitamin B1, copper, phosphorus and vitamin c and folate. They are also a good source of vitamin B6, niacin, vitamin B2, molybdenum, zinc, protein, magnesium, iron, potassium and choline.
The coconut oil benefits
Coconut oil is high in natural saturated fats. Saturated fats not only increase the healthy cholesterol (known as HDL) in your body, but also help to convert the LDL "bad" cholesterol into good cholesterols. By Increasing the HDL's in the body, it helps promote a healthy heart , and lower the risk of heart disease.
The benefits of the garlic
Garlic Contains a Compound Called Allicin, Which Has Potent Medicinal Properties. …
Garlic Is Highly Nutritious, But Has Very Few Calories.
Mint
Digestion: Mint is a great appetiser or palate cleanser, and it promotes digestion. …
Nausea & Headache: Mint leaves, especially freshly crushed leaves but also dried and added to foods help you deal with nausea and headache.
Onions
The photo-chemicals in onions along with their vitamin C help improve immunity.
Onions contain chromium, which assists in regulating blood sugar.
Celery
Celery, which has the scientific name Apium graveolens, is a vegetable in the plant family called Apiaceae. The benefits of celery begin with it being an excellent source of antioxidants and beneficial enzymes, in addition to vitamins and minerals such as vitamin B6, Vitamin C Vitamin K, folate and potassium.
FYI celery soup is delicious too.
Goats Yoghurt
It's easier to digest
It has fewer allergenic proteins and causes less inflammation
It is high in calcium and fatty acids but low in cholesterol
It keeps skin looking good
It absorbs nutrients and minerals better than cows' milk
So you have many reasons to make this, but the best reason of all,  it's quick and can be hot or cold.
Have a great day
x